Why do you need to get saved? Really, it's an invitation to know your Heavenly Father and have liberty in your past, present and future.
The reality is that each and every one of us has sinned. We've failed to do what is right, broken God's laws and tried to do our own thing. It causes spiritual death and separation between us and God; much like when we sin against one another, it causes a break in the relationship and sometimes death.
Good fathers do not want to be separated from their children.  So, God sent His Son, Jesus, to die on the cross and pay the penalty for our sin.  This allows us to restore the relationship with our Heavenly Father. It will give you freedom from guilt and pain of the past, power over weakness in the present and hope for your future. God is not mad at you and He LOVES You! (Read more on the covenant relationship God wants to have with you.)
For God so loved the world, that He gave His only Son, that whoever believes in Him will be saved. (John 3:16)
If you are ready to humble yourself and be restored to your Heavenly Father and make Jesus Christ your Lord and Savior, pray this prayer with your whole heart:
Lord Jesus, thank you for dying on the cross to pay for my sins. I ask you to forgive me. Come into my heart. I make you my Lord and Savior. Help me turn from my sins now. Make me a child of my Heavenly Father and fill me with Your Holy Spirit. Thank you, Lord. I give you my life.
If you prayed that prayer, you are now a child of God, a son or daughter of God. Get connected to a local church, start reading your Bible and learn more about God and His plan for your life.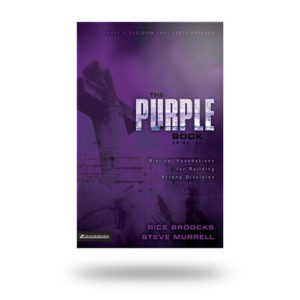 This Purple Book is a 12-chapter Bible Study Guide designed to help believers know and apply the essential beliefs of Christianity.
You can also read more about The Purple book at http://www.thepurplebook.org/