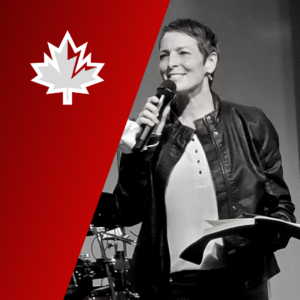 Vision – The Great Canadian Harvest
The Lord broke through my stillness and spoke "The Great Canadian Harvest". Suddenly, I saw a flash of combines plow one field, then another, then another. Startled, I said, "What was that? God, that sounds like your voice!" I was surprised because I was in the middle of Tanzania, Africa. I said, "If that's You, Lord, confirm Your voice." The next day at lunch, the Lord set up a Holy Spirit surprise. I sat down at my table, and what did I see? A bottle of Heinz ketchup labeled in big green letters "THE CANADIAN HARVEST!" I felt the hand of the Lord press my soul as He said, "I know how to take a Canadian to Africa to speak to them about their OWN nation!"
While home on my rest time between assignments, the Lord began to repeat His purpose over again. I began to work and plan. It wasn't long before I was back working with other evangelists in Africa for souls. At the end of the assignment on my first free day, I sat once again at another lunch table. This time there were 2 bottles of ketchup labeled, "THE CANADIAN HARVEST!" God said, "I'm closing one assignment and opening another!"

I am excited about God's vision for this nation – The Great Canadian Harvest! The Gospel moves like a two-legged man! Pray- Preach! Pray – Preach! Pray – Preach! Preaching without prayer is like a bomb without a detonator. Prayer without preaching is like a detonator without a bomb! We need both! We will see the Lord do a great work and harvest in our time and in our day that we never thought possible. The Lord will save our nation from coast to coast!
I am going to be training new evangelists in Canada and will be starting in Saskatoon this February 2022. I will be collaborating to see as many Combine-Harvesters on the field as possible in active service to the Lord Jesus. I will begin training people who are evangelistic or who have the calling of an evangelist according to Ephesians 4 with the training I have received from Christ for all Nations, a soul-winning organization that has seen over 81 million souls come to Christ! I was a part of two projects in Tanzania, Africa that saw over 1 million souls come to Christ in just over a year and have been trained in mass salvation events, church mobilization, collaboration, evangelism, and intercession to see regions shaken with the gospel of Jesus Christ and the power of His Holy Spirit!
Recently, I have been working in Tanzania where I have been working with CfaN on a project called Decapolis where we have seen approximately 800K people of all ages come to Jesus in just over a year with about 150 evangelists. We are trained to evangelize, equip & train, organize and mobilize to see regions come to Jesus Christ.
Our first trip was 120 evangelists and 5 crusades in 5 cities and daily preaching of the gospel. We saw 564K come to Christ in two months.
Six weeks later, I am back in Tanzania for our next push for souls on Decapolis. This time we mobilized a city of 6 million people and ran six crusades all at the same time to see the nation changed with multiple ground evangelists preaching salvation across the city. We had 200K come to the Lord just with our team, never mind all the church members who shared Christ after training. The Lord knit 150 of us evangelists and local churches together in love and made us a massive net by which He could catch a multitude for Himself.
God will do this and more for the nation of Canada. He has called for His harvest and prepared the souls of our beloved Canadians for Jesus- Canada Shall Be Saved!