"Lord, write names in the Lamb's Book of Life and
let me be the pen by which you write them".
The Vision
Our vision at Gospel Fire is two fold! We are commissioned to preach the soul-saving, signs-following Gospel of
Jesus Christ to all nations in the FIRE of the Holy Spirit AND in our beautiful Canada who's Harvest is now ready. We
accomplish this vision through:
● Mass salvation events
● Overseas crusades
● Youth crusades
● Prophetic evangelism and training
● Equipping, organizing and mobilizing churches to take regions and cities
● Training new Holy Ghost Evangelists and working collaboratively to bring in the Harvest
Tyrelle's Bio
Tyrelle Smith is a fired up evangelist with a teaching and prophetic edge.  She lights churches, communities, and regions on fire with the soul-saving, signs-following gospel of Jesus Christ. She preaches to the unsaved and teaches and equips the church. Tyrelle has taught and ministered internationally and co-leads Gospel Fire for All Nations with her husband Bill Smith.
Her book From Double-Minded to Destiny has been endorsed by Evangelist Daniel Kolenda, President of Christ for All Nations, Jeri Hill, President of Together in the Harvest Ministries and wife of Evangelist Steve Hill, a couple foundational to the Brownsville Revival, and Dr. Mark Virkler President of Communion with God Ministries. 
After serving as the Outreach Director for Hope Restored Canada, Tyrelle also founded TraffickJam and its School of Freedom: a live online, anti-sex traffick school that trains abolitionists, professionals, and everyday people for justice missions, complete with international field practicum. Destiny Rescue, Rapha House, and Why Not Now Ministries have endorsed TraffickJam after receiving upskilling and encouragement by Tyrelle Smith and her teams.  She has also spoken at Bible schools and Missing and Murdered Indigenous Women's events, educating attendees on sex trafficking and sharing the gospel of Jesus Christ.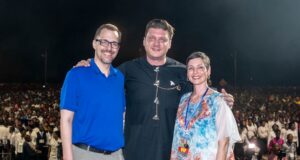 Tyrelle and Bill have been happily married for 23 years and have 3 sons.  Both are graduates of Christ for All Nations School of Evangelism and have traveled with the ministry and Daniel Kolenda to learn and experience the power of the Gospel of Jesus Christ to crowds in the hundreds of thousands, see tens of thousands of salvations with follow up by the local church, with Jesus doing innumerable miraculous healings, filling the crusade field with praise and the presence of the Lord.  The culture of honor for the local church and the saving power of the Lord Jesus Christ has forever been branded into the heart of Tyrelle Smith, even as she ministers under the fire of the Holy Spirit.
Bill's Bio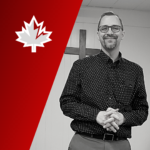 Bill has a strong technical background as a systems analyst and is also an ordained minister with the ACOP. He works behind the scenes as a content creator and social media manager to spread the message of the Gospel.
Pastoral Endorsements
---
"What I have appreciated most when working together with Tyrelle is her passion not only for reaching
individuals with the message and love of Jesus, but also her desire to see the local church strong and
connecting with people who respond to Jesus love and message of hope.
If you have an opportunity to work together with Tyrelle on a project or event I am sure that there will be
great fruit for the Kingdom of God."


–Jordan Gadsby, Lead Pastor, Nipawin Apostolic Church
---
"Their mission is to bring people to faith and connect them to a local church. Tyrelle is strongly
supportive and respectful of the ministry of the local church. In our various prayer meetings, special
services in our local church and in our community, as well as in personal conversation, Tyrelle's love
for people both in the church and not yet reached with the gospel is clear."


–Fred Buhler, Pineridge Fellowship Chapel, Hudson Bay SK
---
"Tyrelle's approach to evangelism encompasses an uncompromising and unapologetic reflection of truth, blended with a humility and disarming honesty that reaches out to capture the human heart with the Saviour's love. Tyrelle's passion is to win the lost. She has a laser like focus for souls, with a willingness to do what it takes to bring healing and freedom to a lost and hurting world. Truly, Tyrelle Smith is one of the God Chasers, and I'm both happy and proud to call her my friend."

–Rev. David Silver, Hudson Bay, SK